茨城県つくば市にあります筑波大学血液内科では、白血病、リンパ腫、MDSなどに対する造血幹細胞移植などの治療を行っております

English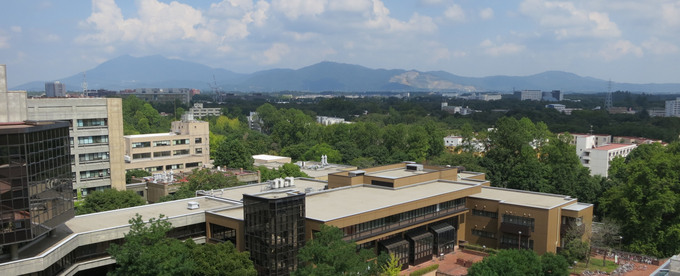 Clinical group: Department of Hematology
Chairman: Prof. Shigeru Chiba, MD, PhD
Clinical hematology, Hematopoietic stem cell transplantation Molecular and cellular biology of hematologic malignancies
E-mail address: schiba-t@md.tsukuba.ac.jp
URL: http://www.md.tsukuba.ac.jp/hematology/
Other Faculty Members
Associate Professor: Yuichi Hasegawa, Hematopoietic stem cell transplantation, Transfusion medicine,
Assistant Professor: Kazumi Suzukawa: Genetic instability in hematopoietic malignancies, Multiple myeloma
Assistant Professor: Yasushi Okoshi: Mlignant lymphoma, Immunohematology
Assistant Professor: Naoshi Obara: Bone marrow failure syndrome, Bone marrow stromal cell regulation
Assistant Professor: Mamiko Sakata-Yanagimoto: Epigenetic regulation in hematopoietic malignancies,
Myelodysplastic syndrome
Assistant Professor: Yasuhisa Yokoyama: ES/iPS cells, Neutrophils, Regeneration medicine, Acute leukemia
Assistant Professor: Hidekazu Nisihiki: Stem cell biology, Regulation of megakaryopoiesis, Platelet disorders
Assistant Professor: Naoki Kurita: Hematopoietic stem cell transplantation, Clinical studies on HSCT & blood diseases

Major Clinical Activities
Diagnosis and Treatment of leukemias, myeloproliferative neoplasms, lymphomas, multiple myelomas, and other
hematologic malignancies
Diagnosis and treatment of bone marrow failure syndromes such as aplastic anemia, myelodysplastic syndrome, and related diseases Allogeneic and autologous hematopoietic stem cell transplantation for patients with above diseases; grafts are
bone marrow, mobilized peripheral blood, and cord blood cells
Diagnosis and treatment of hemolytic anemias, immune thrombocytopenic purpura, and other cytopenic diseases
Diagnosis and treatment of coagulopathies
Major Scientific Interests
Molecular mechanisms underlying development of hematologic malignancies, particularly myelodysplastic syndrome (using both patient samples and mouse models)
Stromal cell abnormalities in the bone marrow failure syndromes, including myelosydplastic syndrome (using both patient samples and mouse models)
Mechanisms of hematopoiesis and ex vivo manipulation of hematopoietic stem/progenitor cells (using human cord blood cells and mouse models)
Translational research on hematopoietic cell transplantation
Projects for Regular Students in Doctoral or Master's Programs
Role of Tet2 in normal hematopoiesis and hematologic malignancies
Role of Notch-Hes axis in normal and malignant hematopoiesis
Identification of stromal cells involved in the bone marrow failure syndromes including myelodyspoastic syndrome
Identification of megakaryocyte (Mgk) progenitors using a new method and application of Mgk progenitors for ex vivo manipulation
Ex vivo expansion of cord blood hematopietic stem cells for clinical use
Programs for Short Stay Students (one week ~ one trimester)
Learn procedures for sorting progenitor cells from mouse bone marrow and fetal liver using a FACS sorter
Learn blood cell transplantation in mouse model
Recent Publications
Sekine C, Koyanagi A, Koyama N, Hozumi K, Chiba S, Yagita H. Differential regulation of osteoclastogenesis by Notch2/Delta-like 1 and Notch1/Jagged1 axes. Arthritis Res Ther 14(2):R45, Published online Mar 5, 2012. (doi:10.1186/ar3758)

Iwahashi S, Maekawa Y, Nishida J, Ishifune C, Kitamura A, Arimochi H, Kataoka K, Chiba S, Shimada M, Yasutomo K. Notch2 regulates the development of marginal zone B cells through Fos. Biochem Biophys Res Commun 418(4):701-717, Feb 24, 2012.

Yokoyama Y, Suzukawa K, Okoshi Y, Nanmoku T, Obara N, Enami T, Hasegawa Y, Chiba S. Nine years interval between first and second bone marrow transplantations and subsequent long-term survival-a case of acute myeloid leukemia with MLL-AF6 fusion gene. Ann Hematol 91(9):1491-3, Sep, 2012.

Machino T, Okoshi Y, Miyake Y, Akatsuka Y, Chiba S. HLA-C Matching Status Does Not Affect Rituximab-Mediated Antibody-Dependent Cellular Cytotoxicity by Allogeneic Natural Killer Cells. Immunol Invest Posted online on June 8, 2012. (doi:10.3109/08820139.2012.691148)

Sakata-Yanagimoto M, Chiba S. Notch2 and Immune Function. Curr Top Microbiol Immunol 360:151-61, 2012.

Nakamoto-Matsubara R, Nishikii H, Yamada K, Ito M, Hasegawa Y, Kurita N, Obara N, Okoshi Y, Suzukawa K, Yokoyama Y, Sakata-Yanagimoto M, Noguchi M, Chiba S. Early Pathologic Findings of Bronchiolitis Obliterans after Allogeneic Hematopoietic Stem Cell Transplantation: A Proposal from a Case. Case Report Hematol Epub Aug 22, 2012. (doi:10.1155/2012/957612)

Kamada Y, Sakata-Yanagimoto M, Sanada M, Sato-Otsubo A, Enami T, Suzukawa K, Kurita N, Nishikii H, Yokoyama Y, Okoshi Y, Hasegawa Y, Ogawa S, Chiba S. Identification of unbalanced genome copy number abnormalities in patients with multiple myeloma by single-nucleotide polymorphism genotyping microarray analysis. Int J Hematol 96(4):492-500, Oct 2012.