茨城県つくば市にあります筑波大学血液内科では、白血病、リンパ腫、MDSなどに対する造血幹細胞移植などの治療を行っております

English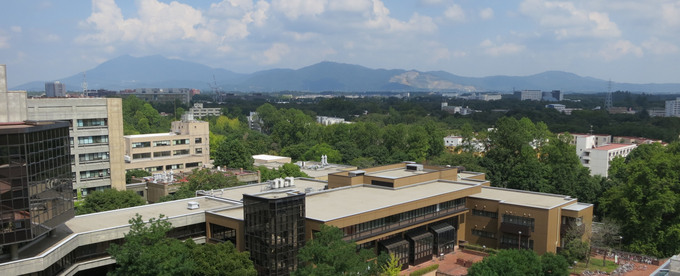 Department of Hematology
Chairman: Prof. CHIBA Shigeru, MD, PhD
Prof. SAKATA-YANAGIMOTO Mamiko, MD, PhD (linking to Division of Hemato-Oncology, Transborder Medical Research Center)
Molecular and cellular biology of hematologic malignancies;
Invitation to the fantastic scietific world leaded by SAKATA-YANAGIMOTO Mamiko
https://www.md.tsukuba.ac.jp/tmrc/en/research_lab/advanced_hematooncology/
Contact: sakatama@md.tsukuba.ac.jp
Other Faculty Members
Associate Professor Hidekazu Nishikii: Hematopoietic stem cell biology, Bone marrow stromal cell regulation, Megakaryopoiesis
Assistant Professor Yasuhisa Yokoyama: Adult chronic neutropenia, Acute promyelocytic leukemia
Assistant Professor Naoki Kurita: Hematopoietic stem cell transplantation, Clinical studies on HSCT & blood diseases
Assistant Professor Takayasu Kato: Molecular mechanisms of acute myeloid leukemia
Assistant Professor Tatushiro Sakamoto: Molecular and cellular research in acute myeloid leukemia
Assistant Professor Keiichiro Hattori: Molecular and cellular research in maligant lymphoma
Assitant Professor Yasuhito Suehara: Molecular and cellular resarch in maligant lymphoma
Fellow/Researcher Manabu Fujisawa
Fellow/Researcher Nguyen Bich Tran
Major Clinical Activities
Diagnosis and Treatment of leukemias, myeloproliferative neoplasms, lymphomas, multiple myelomas, and other hematologic malignancies
Diagnosis and treatment of bone marrow failure syndromes such as aplastic anemia, myelodysplastic syndrome, and related diseases
Allogeneic and autologous hematopoietic stem cell transplantation for patients with above diseases; grafts are bone marrow, mobilized peripheral blood, and cord blood cells
Diagnosis and treatment of hemolytic anemias, immune thrombocytopenic purpura, and other cytopenic diseases
Diagnosis and treatment of coagulopathies
Major Scientific Interests
Molecular mechanisms underlying development of hematologic malignancies, particularly myelodysplastic syndrome and malingant lymphomas (using both patient samples and mouse models)
Stromal cell abnormalities in the bone marrow failure syndromes, including myelosydplastic syndrome (using both patient samples and mouse models)
Mechanisms of hematopoiesis and ex vivo manipulation of hematopoietic stem/progenitor cells (using human cord blood cells and mouse models)
Translational research on hematopoietic cell transplantation
Projects for Regular Students in Doctoral or Master's Programs
Identification of moleuclar mechanisms how normal hematopoiesis and hematologic malignancies develop: using molecular approach, bioinformatic approach including single cell sequencing and genetic analysis and mouse models
Identification of stromal cells involved in the bone marrow failure syndromes including myelodyspoastic syndrome
Identification of megakaryocyte (Mgk) progenitors using a new method and application of Mgk progenitors for ex vivo manipulation
Programs for Short Stay Students (one trimester)
Learn procedures for sorting progenitor cells from mouse bone marrow and fetal liver using a FACS sorter; bioinformatics using supercomputer to analyze single cell sequencing and genomic sequencing data
Learn blood cell transplantation in mouse models
Message from foreign students in the lab

Tanzima Nuhat Sharna, PhD student from Bangladesh
University of Tsukuba, located in southern Ibaraki Prefecture, provides us the opportunity to explore Japanese culture, build our language skill, experience multidisciplinary research environment. Being a part of world-leading innovative university, the department of hematology promotes globalization of researchers by diversified intellectual members. During my work in this laboratory, I came to know about the impressive medical system in Japan. I have received incommensurable support from my supervisor and other lab members to pursue my research. They always encouraged me and motivated to build confidence. Furthermore, I got opportunity to gather high standard theoretical knowledge and practical experience of research in a well-equipped laboratory. We work here with numerous other international students. In addition, we can attend classes and discussions conducted in English which makes an international atmosphere. When I was preparing to apply in the Graduate school of comprehensive human science my supervisor guided me to prepare my applications. Besides, I attended an oral examination for screening process which was conducted in English over the internet. This procedure eliminates my fear of language barrier. Research in Biomedical science is not very developed in Bangladesh. Therefore, when I shall go back to Bangladesh, I would like to introduce my knowledge from Japan for the betterment of my country.

Cao Sy Luan, PhD student from Vietnam
I am an international student belong the Department of Hematology in University of Tsukuba. First, the reason why I chose this place for studying, because I want to learn about Japanese culture, one of the worthy cultures to learn, study and research about hematological field in professional and modern environment. After more than 3 years studying here, I have been learned a lot of thing, including good characteristics from Japanese, the way of scientific and logical thinking, how to manage experiments and scientific writing skills, the new knowledge not only in hematological but also in clinical, and biomedical filed, and so on. In the Department of Hematology, I have a chance to study and discuss with great and conscientious teachers as well as work together with friendly and kindly lab members. I also got opportunity to attend and represent my study in many conferences in Japan and other countries. I will try to apply as much as possible what I learned from here to contribute to develop my country when I go back. Finally, I greatly appreciate the teaching, helping and encouraging from professor Chiba and all members in the Department of Hematology.

Nguyen Thi Minh Yen, PhD student from Vietnam
I feel very proud to be a member of the lab. The friendly environment, the enthusiastic help and the devotion of the teachers made me more motivated to continue my research career. In hematology lab, I have learned a lot of new techniques, new knowledge in biomedical field, pathology, especially the way of thinking scientifically to solve research problems. Along with a great deal of hematological pathology, I believe this is a fascinating field to explore new biological mechanisms and, from that point of view, solves the problem of unique therapeutic drugs for treatment cancer diseases, particularly hematological neoplasm.
Actually, the number of hematologic cancer patients are rising in anxiety in our country. As a student from Vietnam, I think here is a worthy place to contribute and learn to hope that new opportunities for hematologic cancer patients will come true.

Raksha Shrestha, PhD student from Nepal
Enrolling in the Doctoral program in Clinical Hematology at University of Tsukuba was one of the best decisions I have made in my life. Being one of the most highly research-intensive and respected universities in Japan, University of Tsukuba upholds its reputation for excellence with outstanding graduate programs like ours, in the department of hematology. Creative thinking, active discussions and strong mentor-student relationships are some among many positive attributes of the program. I have thoroughly enjoyed learning new techniques in the lab, reading broadly around my areas of interest and hearing about current research from local and visiting academics. A unique blend of interpersonal dynamics, strong work ethic and great camaraderie among the team creates a supportive and an amicable atmosphere in the lab. I believe that the knowledge and experience I acquire here will help me become an independent and competent clinician scientist in future. I feel immensely proud and equally grateful to be a part of this wonderful team at University of Tsukuba. Thank you for making it 'my home away from home'.
Recent activities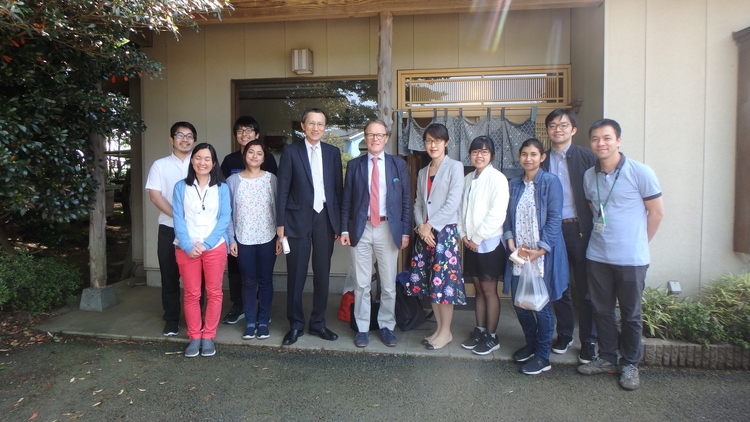 In front of a Soba restaurant (lab members with Prof P. Gaulard.)
Recent Publications
・Abe Y, Sakata-Yanagimoto M, Fujisawa M, Miyoshi H, Suehara Y, Hattori K, Kusakabe M, Sakamoto T, Nishikii H, Nguyen TB, Owada Y, Enomoto T, Sawa A, Bando H, Yoshida C, Tabata R, Terao T, Nakayama M, Ohshima K, Usuki K, Oda T, Matsue K, Chiba S. A single-cell atlas of non-haematopoietic cells in human lymph nodes and lymphoma reveals a landscape of stromal remodelling. Nat Cell Biol (doi: 10.1038/s41556-022-00866-3.) Online ahead of print Mar 24, 2022
・Ikezoe T, Noji H, Ueda Y, Kanda Y, Okamoto S, Usuki K, Matsuda T, Akiyama H, Shimono A, Yonemura Y, Kawaguchi T, Chiba S, Kanakura Y, Nishimura JI, Ninomiya H, Obara N. Long-term follow-up of patients with paroxysmal nocturnal hemoglobinuria treated with eculizumab: post-marketing surveillance in Japan. Int J Hematol 115(4):470-480, Apr, 2022 (doi: 10.1007/s12185-022-03287-y.) Epub Feb 11, 2022
・Perl AE, Larson RA, Podoltsev NA, Strickland SA, Wang ES, Atallah E, Schiller GJ, Martinelli G, Neubauer A, Sierra J, Montesinos P, Récher C, Yoon SS, Hosono N, Onozawa M, Chiba S, Kim HJ, Hasabou N, Lu Q, Tiu R, Levis MJ. Follow-up of patients with R/R FLT3-mutation-positive AML treated with gilteritinib in the phase 3 ADMIRAL trial. Blood (doi: 10.1182/blood.2021011583.) Online ahead of print Jan 26, 2022
・Matsuoka R, Sakamoto N, Kato T, Chiba S, Noguchi M. A case of solitary plasmacytoma of bone showing co-expression of both immunoglobulin light chains. Eur J Med Res 26(1):148, Dec 20, 2021 (doi: 10.1186/s40001-021-00621-8.)
・Suma S, Yokoyama Y, Momose H, Makishima K, Kiyoki Y, Sakamoto T, Kusakabe M, Kato T, Kurita N, Nishikii H, Sakata-Yanagimoto M, Obara N, Hasegawa Y, Chiba S. Salvage Cord Blood Transplantation Using a Short-term Reduced-intensity Conditioning Regimen for Graft Failure. Intern Med (doi: 10.2169/internalmedicine.7836-21.) Online ahead of print Nov 20, 2021
・Makishima K, Suehara Y, Abe Y, Hattori K, Kusakabe M, Matsuoka R, Chiba S, Sakata-Yanagimoto M. Intratumor heterogeneity of lymphoma identified by multiregion sequencing of autopsy samples. Cancer Sci 113(1):362-364, Jan, 2022 (doi: 10.1111/cas.15178. ) Epub Nov 21, 2021
・Nguyen YTM, Fujisawa M, Nguyen TB, Suehara Y, Tatsuhiro S, Matsuoka R, Abe Y, Fukumoto K, Hattori K, Noguchi M, Matsubara D, Chiba S, Sakata-Yanagimoto M. Tet2-deficency in immune cells exacerbates tumor progression by increasing angiogenesis in a lung cancer model. Cancer Sci 112(12):4931-4943, Dec, 2021 (doi: 10.1111/cas.15165.) Epub Oct 17, 2021
・Kaji D, Kusakabe M, Sakata-Yanagimoto M, Makishima K, Suehara Y, Hattori K, Ota Y, Mitsuki T, Yuasa M, Kageyama K, Taya Y, Nishida A, Ishiwata K, Takagi S, Yamamoto H, Asano-Mori Y, Ubara Y, Izutsu K, Uchida N, Wake A, Taniguchi S, Yamamoto G, Chiba S. Retrospective analyses of other iatrogenic immunodeficiency-associated lymphoproliferative disorders in patients with rheumatic diseases. Br J Haematol 195(4):585-594, Nov, 2021 (doi: 10.1111/bjh.17824.) Epub Sep 23, 2021
・Hosono N, Yokoyama H, Aotsuka N, Ando K, Iida H, Ishikawa T, Usuki K, Onozawa M, Kizaki M, Kubo K, Kuroda J, Kobayashi Y, Shimizu T, Chiba S, Nara M, Hata T, Hidaka M, Fujiwara SI, Maeda Y, Morita Y, Kusano M, Lu Q, Miyawaki S, Berrak E, Hasabou N, Naoe T. Gilteritinib versus chemotherapy in Japanese patients with FLT3-mutated relapsed/refractory acute myeloid leukemia. Int J Clin Oncol 26(11):2131-2141 Nov, 2021 (doi: 10.1007/s10147-021-02006-7.) Epub Aug 7, 2021
・Niemi MEK, et al., Chiba S, et al. (1224人中1093番目) Mapping the human genetic architecture of COVID-19. Nature 600(7889):472-477, Dec, 2021(doi.org/10.1038/s41586-021-03767-x) Epub Jul 8, 2021
・Hibino S, Kawazoe T, Kasahara H, Itoh S, Ishimoto T, Sakata-Yanagimoto M, Taniguchi K. Inflammation-Induced Tumorigenesis and Metastasis. Int J Mol Sci 22(11):5421, May 21, 2021 (doi: 10.3390/ijms22115421.)
・Kurosawa S, Kaito S, Uchida N, Fukuda T, Doki N, Mori T, Hasegawa Y, Takada S, Sakaida E, Tanaka M, Ikegame K, Kanda J, Atsuta Y, Kako S. Allogeneic hematopoietic stem cell transplantation for adult patients with B-cell acute lymphoblastic leukemia with high hyperdiploidy: a retrospective nationwide study. Leuk Lymphoma 62(10):2514-2520, Oct, 2021 (doi: 10.1080/10428194.2021.1924374.) Epub May 12, 2021
・Nangaku M, Kadowaki T, Yotsuyanagi H, Ohmagari N, Egi M, Sasaki J, Sakamoto T, Hasegawa Y, Ogura T, Chiba S, Node K, Suzuki R, Yamaguchi Y, Murashima A, Ikeda N, Morishita E, Yuzawa K, Moriuchi H, Hayakawa S, Nishi D, Irisawa A, Miyamoto T, Suzuki H, Sone H, Fujino Y. The Japanese Medical Science Federation COVID-19 Expert Opinion English Version. JMA J 4(2):148-162, Apr 15, 2021 (doi: 10.31662/jmaj.2021-0002.) Epub Apr 8, 2021
・Bernard E, Nannya Y, Hasserjian RP, Devlin SM, Tuechler H, Medina-Martinez JS, Yoshizato T, Shiozawa Y, Saiki R, Malcovati L, Levine MF, Arango JE, Zhou Y, Solé F, Cargo CA, Haase D, Creignou M, Germing U, Zhang Y, Gundem G, Sarian A, van de Loosdrecht AA, Jädersten M, Tobiasson M, Kosmider O, Follo MY, Thol F, Pinheiro RF, Santini V, Kotsianidis I, Boultwood J, Santos FPS, Schanz J, Kasahara S, Ishikawa T, Tsurumi H, Takaori-Kondo A, Kiguchi T, Polprasert C, Bennett JM, Klimek VM, Savona MR, Belickova M, Ganster C, Palomo L, Sanz G, Ades L, Della Porta MG, Elias HK, Smith AG, Werner Y, Patel M, Viale A, Vanness K, Neuberg DS, Stevenson KE, Menghrajani K, Bolton KL, Fenaux P, Pellagatti A, Platzbecker U, Heuser M, Valent P, Chiba S, Miyazaki Y, Finelli C, Voso MT, Shih LY, Fontenay M, Jansen JH, Cervera J, Atsuta Y, Gattermann N, Ebert BL, Bejar R, Greenberg PL, Cazzola M, Hellström-Lindberg E, Ogawa S, Papaemmanuil E. Nat Med 27(5):927, May, 2021 (doi: 10.1038/s41591-021-01367-w.) Epub May 4, 2021
・Inoue K, Iida N, Tajiri K, Bando H, Chiba S, Tasaka N, Nagashio K, Sasamura R, Naito H, Murata M, Li S, Ishizu T, Nakazawa Y, Sekine I, Ieda M. Rationale, Design, and Feasibility of a Prospective Multicenter Registry Study of Anthracycline-Induced Cardiotoxicity (AIC Registry) J Clin Med 10(7):1370, Mar 27, 2021 (doi: 10.3390/jcm10071370.)
・Kawai H, Ando K, Maruyama D, Yamamoto K, Kiyohara E, Terui Y, Fukuhara N, Miyagaki T, Tokura Y, Sakata-Yanagimoto M, Igarashi T, Kuroda J, Fujita J, Uchida T, Ishikawa T, Yonekura K, Kato K, Nakanishi T, Nakai K, Matsunaga R, Tobinai K. Phase 2 study of E7777 in Japanese patients with relapsed/refractory peripheral and cutaneous T-cell lymphoma. Cancer Sci 112(6):2426-2435, Jun, 2021 (doi: 10.1111/cas.14906.) Epub Mar 31, 2021
・Sakakibara A, Suzuki Y, Kato H, Yamamoto K, Sakata-Yanagimoto M, Ishikawa Y, Furukawa K, Shimada K, Kohno K, Nakamura S, Satou A, Kato S. Follicular T-cell lymphoma mimicking lymphocyte-rich classic Hodgkin lymphoma: a case report of a diagnostic pitfall. J Clin Exp Hematop 61(2):97-101, Jun 5, 2021 (doi: 10.3960/jslrt.20052.) Epub Mar 15, 2021
・Sakata-Yanagimoto M, Fukumoto K, Karube K, Chiba S. Molecular understanding of peripheral T-cell lymphomas, not otherwise specified (PTCL, NOS): A complex disease category. J Clin Exp Hematop 61(2):61-70, Jun 5, 2021(doi: 10.3960/jslrt.20059.) Epub Mar 15, 2021
・Kurita N, Sakamoto T, Kato T, Kusakabe M, Yokoyama Y, Nishikii H, Sakata-Yanagimoto M, Obara N, Hasegawa Y, Chiba S. Early administration of cyclosporine may reduce the incidence of cytokine release syndrome after HLA-haploidentical hematopoietic stem-cell transplantation with post-transplant cyclophosphamide. Ann Hematol 100(5):1295-1301, May, 2021 (doi: 10.1007/s00277-021-04439-6.) Epub Feb 12, 2021
・Bernard E, Nannya Y, Hasserjian RP, Devlin SM, Tuechler H, Medina-Martinez JS, Yoshizato T, Shiozawa Y, Saiki R, Malcovati L, Levine MF, Arango JE, Zhou Y, Solé F, Cargo CA, Haase D, Creignou M, Germing U, Zhang Y, Gundem G, Sarian A, van de Loosdrecht AA, Jädersten M, Tobiasson M, Kosmider O, Follo MY, Thol F, Pinheiro RF, Santini V, Kotsianidis I, Boultwood J, Santos FPS, Schanz J, Kasahara S, Ishikawa T, Tsurumi H, Takaori-Kondo A, Kiguchi T, Polprasert C, Bennett JM, Klimek VM, Savona MR, Belickova M, Ganster C, Palomo L, Sanz G, Ades L, Della Porta MG, Smith AG, Werner Y, Patel M, Viale A, Vanness K, Neuberg DS, Stevenson KE, Menghrajani K, Bolton KL, Fenaux P, Pellagatti A, Platzbecker U, Heuser M, Valent P, Chiba S, Miyazaki Y, Finelli C, Voso MT, Shih LY, Fontenay M, Jansen JH, Cervera J, Atsuta Y, Gattermann N, Ebert BL, Bejar R, Greenberg PL, Cazzola M, Hellström-Lindberg E, Ogawa S, Papaemmanuil E. Author Correction: Implications of TP53 allelic state for genome stability, clinical presentation and outcomes in myelodysplastic syndromes. Nat Med 27(3):562, Mar, 2021(doi: 10.1038/s41591-021-01253-5.) Epub Feb 9, 2021
・Tanaka A, Yokohama A, Fujiwara SI, Fujii Y, Kaneko M, Ueda Y, Abe T, Kato Y, Hasegawa Y, Ikeda K, Fujino K, Matsumoto M, Makino S, Kino S, Takeshita A, Muroi K. Transfusion-associated circulatory overload and high blood pressure: A multicentre retrospective study in Japan. Vox Sang 116(7):785-792, Aug, 2021 (doi: 10.1111/vox.13063.) Epub Feb 2, 2021
・Narita K, Kobayashi H, Suzuki T, Ichikawa D, Yamazaki K, Terawaki H, Suehara Y, Miura D, Takeuchi M, Matsue K. Light Chain Deposition Disease in a Patient With MYD88 L265P Mutation-positive Low-grade B-cell Lymphoma and Monoclonal Immunoglobulin G κ. Clin Lymphoma Myeloma Leuk 20(11):e805-e808, Nov, 2020 (doi: 10.1016/j.clml.2020.06.006.) Epub 2020 Jun 13.
・Yanagimachi N, Obara N, Sakata-Yanagimoto M, Chiba S, Doki K, Homma M. A simple high-performance liquid chromatography assay for determining eltrombopag concentration in human serum. Biomed Chromatogr e5049, Dec 11, 2020 (doi: 10.1002/bmc.5049.) Online ahead of print.
・Shikata H, Kihara H, Kaneko M, Matsukage S, Hattori K. Monitoring of MYD88 L265P mutation by droplet digital polymerase chain reaction for prediction of early relapse in a patient with Bing-Neel syndrome. Int J Hematol Nov 22, 2020 (doi: 10.1007/s12185-020-03038-x.) Online ahead of print.
・Imada K, Obara N, Iida H, Imajo K, Maeda T, Usuki K, Fanghong Z, Hombo Y, Tajima T, Kumagai A, Matsuda A, Nakao S. Eltrombopag in Combination with Rabbit Anti-thymocyte Globulin/Cyclosporine A in Immunosuppressive Therapy-naïve Patients with Aplastic Anemia in Japan. Intern Med 2020 Nov 23. (doi: 10.2169/internalmedicine.6063-20.) Online ahead of print.
・Hosokawa K, Ishiyama K, Ikemoto T, Sugimori C, Noji H, Shichishima T, Obara N, Chiba S, Ninomiya H, Nguyen MAT, Shirasugi Y, Nakamura Y, Ando K, Ueda Y, Yonemura Y, Kawaguchi T, Nishimura JI, Kanakura Y, Nakao S. The clinical significance of PNH-phenotype cells accounting for < 0.01% of total granulocytes detected by the Clinical and Laboratory Standards Institute methods in patients with bone marrow failure. Ann Hematol Oct 23, 2020 (doi: 10.1007/s00277-020-04314-w.) Online ahead of print.
・Matsuoka R, Sakamoto N, Sakata-Yanagimoto M, Chiba S, Noguchi M, Nakamura N. An overlapping case of in situ mantle cell neoplasia and leukemic non-nodal mantle cell lymphoma. J Clin Exp Hematop 60(4):169-173, Dec 15, 2020 (doi: 10.3960/jslrt.20022. ) Epub Oct 8, 2020
・Fukumoto K, Sakata-Yanagimoto M, Fujisawa M, Sakamoto T, Miyoshi H, Suehara Y, Nguyen TB, Suma S, Yanagimoto S, Shiraishi Y, Chiba K, Bouska A, Kataoka K, Ogawa S, Iqbal J, Ohshima K, Chiba S. VAV1 mutations contribute to development of T-cell neoplasms in mice. Blood Sep 29, 2020 (doi: 10.1182/blood.2020006513.) Online ahead of print.
・Kaji D, Ota Y, Sato Y, Nagafuji K, Ueda Y, Okamoto M, Terasaki Y, Tsuyama N, Matsue K, Kinoshita T, Yamamoto G, Taniguchi S, Chiba S, Ohshima K, Izutsu K. Primary human herpesvirus 8-negative effusion-based lymphoma: a large B-cell lymphoma with favorable prognosis. Blood Adv 4(18):4442-4450, Sep 22, 2020 (doi: 10.1182/bloodadvances.2020002293.)
・Kiyoki Y, Matsuoka R, Kaneta T, Nishikii H. 18FDG-PET imaging and histopathology in neuroleukemiosis with acute myeloid leukemia. Int J Hematol 112(4):433-434, Oct, 2020 (doi: 10.1007/s12185-020-02976-w.) Epub Aug 31, 2020
・Bernard E, Nannya Y, Hasserjian RP, Devlin SM, Tuechler H, Medina-Martinez JS, Yoshizato T, Shiozawa Y, Saiki R, Malcovati L, Levine MF, Arango JE, Zhou Y, Solé F, Cargo CA, Haase D, Creignou M, Germing U, Zhang Y, Gundem G, Sarian A, van de Loosdrecht AA, Jädersten M, Tobiasson M, Kosmider O, Follo MY, Thol F, Pinheiro RF, Santini V, Kotsianidis I, Boultwood J, Santos FPS, Schanz J, Kasahara S, Ishikawa T, Tsurumi H, Takaori-Kondo A, Kiguchi T, Polprasert C, Bennett JM, Klimek VM, Savona MR, Belickova M, Ganster C, Palomo L, Sanz G, Ades L, Della Porta MG, Smith AG, Werner Y, Patel M, Viale A, Vanness K, Neuberg DS, Stevenson KE, Menghrajani K, Bolton KL, Fenaux P, Pellagatti A, Platzbecker U, Heuser M, Valent P, Chiba S, Miyazaki Y, Finelli C, Voso MT, Shih LY, Fontenay M, Jansen JH, Cervera J, Atsuta Y, Gattermann N, Ebert BL, Bejar R, Greenberg PL, Cazzola M, Hellström-Lindberg E, Ogawa S, Papaemmanuil E. Implications of TP53 allelic state for genome stability, clinical presentation and outcomes in myelodysplastic syndromes. Nat Med 26(10):1549-1556, Oct, 2020 (doi: 10.1038/s41591-020-1008-z.) Epub Aug 3, 2020
・Yokohama A, Okuyama Y, Ueda Y, Itoh M, Fujiwara SI, Hasegawa Y, Nagai K, Arakawa K, Miyazaki K, Makita M, Watanabe M, Ikeda K, Tanaka A, Fujino K, Matsumoto M, Makino S, Kino S, Takeshita A, Muroi K. Differences among hemoglobin thresholds for red blood cell transfusions in patients with hematological diseases in teaching hospitals: a real world data in Japan. Int J Hematol 112(4):535-543, Oct, 2020 (doi: 10.1007/s12185-020-02937-3.) Epub Jul 18, 2020
・Chiba S, Sakata-Yanagimoto M. Advances in understanding of angioimmunoblastic T-cell lymphoma. Leukemia 34(10):2592-2606, Oct, 2020 (doi: 10.1038/s41375-020-0990-y.) Epub Jul 23, 2020 Review.
・Konishi R, Ishitsuka Y, Inoue S, Saito A, Nakamura Y, Watanabe R, Okiyama N, Chiba S, Nishikii H, Fujimoto M, Fujisawa Y. Aggressive conjunctival carcinoma arising on poorly controlled sun-damaged graft-versus-host disease. Eur J Dermatol 30(3):313-314, Jun 1, 2020 (doi: 10.1684/ejd.2020.3779.)
・Miyoshi H, Sakata-Yanagimoto M, Shimono J, Yoshida N, Hattori K, Arakawa F, Yanagida E, Takeuchi M, Yamada K, Suzuki T, Moritsubo M, Furuta T, Chiba S, Ohshima K. RHOA mutation in follicular T-cell lymphoma: Clinicopathological analysis of 16 cases. Pathol Int 70(9):653-660, Sep, 2020 ( doi: 10.1111/pin.12981.) Epub Jul 9, 2020
・Kurosawa S, Yamaguchi H, Yamaguchi T, Fukunaga K, Yui S, Kanamori H, Usuki K, Uoshima N, Yanada M, Takeuchi J, Mizuno I, Kanda J, Okamura H, Yano S, Tashiro H, Shindo T, Chiba S, Tomiyama J, Inokuchi K, Fukuda T. The prognostic impact of FLT3-ITD, NPM1 and CEBPa in cytogenetically intermediate-risk AML after first relapse. Int J Hematol 112(2):200-209, Aug, 2020 (doi: 10.1007/s12185-020-02894-x.) Epub Jun 3, 2020
・Fujita H, Ishikawa Y, Yokoyama Y. JSH practical guidelines for hematological malignancies, 2018: I. Leukemia-2. Acute promyelocytic leukemia (APL). Int J Hematol 111(6):747-760, Jun, 2020 (doi: 10.1007/s12185-020-02884-z.) Epub Apr 28, 2020
・Fujiwara SI, Ikeda K, Kino S, Tanaka A, Hasegawa Y, Fujino K, Makino S, Matsumoto M, Yokohama A, Takeshita A, Muroi K. Clinical significance of autologous blood transfusions in bone marrow harvest from unrelated donors. Int J Hematol 111(6):833-839, Jun, 2020 (doi: 10.1007/s12185-020-02851-8.) Epub Mar 14, 2020
・Shrestha R, Sakata-Yanagimoto M, Maie K, Oshima M, Ishihara M, Suehara Y, Fukumoto K, Nakajima-Takagi Y, Matsui H, Kato T, Muto H, Sakamoto T, Kusakabe M, Nannya Y, Makishima H, Ueno H, Saiki R, Ogawa S, Chiba K, Shiraishi Y, Miyano S, Enguerran Mouly, Bernard OA, Inaba T, Koseki H , Iwama A, Chiba S. Molecular pathogenesis of progression to myeloid leukemia from TET-insufficient status. Blood Adv 4(5):845-854, Mar 10, 2020 (doi: 10.1182/bloodadvances.2019001324)
・Yamada C, Takeshita A, Ohto H, Ishimaru K, Kawabata K, Nomaguchi Y, Haraguchi Y, Abe M, Sobue K, Takenouchi H, Takadate J, Kamimura M, Katai A, Kasai D, Minami Y, Sugimoto T, Michino J, Nagai K, Kumagai M, Hasegawa Y, Ishizuka K, Ohtomo N, Yamada N, Muroi K, Matsushita T, Takahashi K. A Japanese Multi-Institutional Collaborative Study of Antigen-Positive Red Blood Cell (RBC) Transfusions in Patients With Corresponding RBC Antibodies. Vox Sang 115(5):456-465, Jul, 2020 (doi: 10.1111/vox.12906) Epub Mar 2, 2020
・Nguyen TB, Sakata-Yanagimoto M, Fujisawa M, Tanzima Nuhat S, Miyoshi H, Nannya Y, Hashimoto K, Fukumoto K, Bernard Olivier A, Kiyoki Y, Ishitsuka K, Momose H, Sukegawa S, Shinagawa A, Suyama T, SatoY, Nishikii H, Obara N, Kusakabe M, Yanagimoto S, Ogawa S, Ohshima K, Chiba S. Dasatinib Is an Effective Treatment for Angioimmunoblastic T-cell Lymphoma. Cancer Res 80(9):1875-1884, May 1, 2020 (doi: 10.1158/008-5472.CAN-19-2787) Epub Feb 27, 2020
・Yokoyama Y, Maie K, Fukuda T, Uchida N, Mukae J, Sawa M, Kubo K, Kurokawa M, Nakamae H, Ichinohe T, Atsuta Y, Chiba S. A High CD34 + Cell Dose Is Associated With Better Disease-Free Survival in Patients With Low-Risk Diseases Undergoing Peripheral Blood Stem Cell Transplantation From HLA-matched Related Donors. Bone Marrow Transplant 55(9):1726-1735, Sep, 2020 (doi: 10.1038/s41409-020-0817-5) Epub Feb 10, 2020
・Ishikawa Y, Kawashima N, Atsuta Y, Sugiura I, Sawa M, Dobashi N, Yokoyama H, Doki N, Tomita A, Kiguchi T, Koh S, Kanamori H, Iriyama N, Kohno A, Moriuchi Y, Asada N, Hirano D, Togitani K, Sakura T, Hagihara M, Tomikawa T, Yokoyama Y, Asou N, Ohtake S, Matsumura I, Miyazaki Y, Naoe T, Kiyoi H. Prospective evaluation of prognostic impact of KIT mutations on acute myeloid leukemia with RUNX1-RUNX1T1 and CBFB-MYH11. Blood Adv 4(1):66-75, Jan 14, 2020 (doi: 10.1182/bloodadvances.2019000709.)
・Suma-Sugimoto S, Yokoyama Y, Yoshida C, Ishitsuka K, Makishima K, Kiyoki Y, Sakamoto T, Kusakabe M, Kato T, Kurita N, Nishikii H, Sakata-Yanagimoto M, Obara N, Hasegawa Y, Chiba S. Salvage Cord Blood Transplantation Using a Short-Term Reduced-Intensity Preparative Regimen for Graft Failure. Clin Lymphoma Myeloma Leuk 19(1):S261–S262, Sep, 2019 (doi: 10.1016/j.clml.2019.07.179)
・Eladl AE, Shimada K, Suzuki Y, Takahara T, Kato S, Kohno K, Elsayed AA, Wu CC, Tokunaga T, Kinoshita T, Sakata-Yanagimoto M, Nakamura S, Satou A. EBV status has prognostic implication among young patients with angioimmunoblastic T-cell lymphoma. Cancer Med 9(2):678-688, Jan, 2020 (doi: 10.1002/cam4.2742.) Epub Dec 2, 2019
・Kumar P, Lele SS, Ragothaman VK, Raghunathan D, Epstein AL, Chiba S, Prabhakar BS. OX40L-JAG1-Induced Expansion of Lineage-Stable Regulatory T Cells Involves Noncanonical NF-κB Signaling. J Immunol 203(12):3225-3236, Dec 15, 2019 (doi: 10.4049/jimmunol.1900530.) Epub Nov 8, 2019
・Suehara Y, Sakata-Yanagimoto M, Hattori K, Kusakabe M, Nanmoku T, Sato T, Noguchi M, Chiba S. Mutations found in cell-free DNAs of patients with malignant lymphoma at remission can derive from clonal hematopoiesis. Cancer Sci 110(10):3375-3381, Oct, 2019 (doi: 10.1111/cas.14176.) Epub Sep 12, 2019
・Kawabata H, Usuki K, Shindo-Ueda M, Kanda J, Tohyama K, Matsuda A, Araseki K, Hata T, Suzuki T, Kayano H, Shimbo K, Chiba S, Ishikawa T, Arima N, Nohgawa M, Miyazaki Y, Kurokawa M, Arai S, Mitani K, Takaori-Kondo A; Japanese National Research Group on Idiopathic Bone Marrow Failure Syndromes. Serum ferritin levels at diagnosis predict prognosis in patients with low blast count myelodysplastic syndromes. Int J Hematol 110(5):533-542, Nov, 2019 (doi: 10.1007/s12185-019-02710-1. ) Epub Jul 29, 2019
・Yoshida I, Tamura K, Miyamoto T, Shimokawa M, Takamatsu Y, Nanya Y, Matsumura I, Gotoh M, Igarashi T, Takahashi T, Aiba K, Kumagai K, Ishizawa K, Kurita N, Usui N, Hatake K. Prophylactic Antiemetics for Haematological Malignancies: Prospective Nationwide Survey Subset Analysis in Japan. In Vivo 33(4):1355-1362, Jul-Aug, 2019 (doi: 10.21873/invivo.11611.)
・Kusakabe M, Sun AC, Tyshchenko K, Wong R, Nanda A, Shanna C, Gusscott S, Chavez EA, Lorzadeh A, Zhu A, Hill A, Hung S, Brown S, Babaian A, Wang X, Holt RA, Steidl C, Karsan A, Humphries RK, Eaves CJ, Hirst M, Weng AP. Synthetic modeling reveals HOXB genes are critical for the initiation and maintenance of human leukemia. Nat Commun 10(1):2913, Jul 2, 2019 (doi: 10.1038/s41467-019-10510-8. 9
・Yamazaki H, Ohta K, Iida H, Imada K, Obara N, Tokumine Y, Tomiyama Y, Usuki K, Imajo K, Miyamura K, Sasaki O, Fanghong Z, Hattori T, Tajima T, Matsuda A, Nakao S. Hematologic recovery induced by eltrombopag in Japanese patients with aplastic anemia refractory or intolerant to immunosuppressive therapy. Int J Hematol 110(2):187-196, Aug, 2019 (doi: 10.1007/s12185-019-02683-1.) Epub Jun 10, 2019
・Watatani Y, Sato Y, Miyoshi H, Sakamoto K, Nishida K, Gion Y, Nagata Y, Shiraishi Y, Chiba K, Tanaka H, Zhao L, Ochi Y, Takeuchi Y, Takeda J, Ueno H, Kogure Y, Shiozawa Y, Kakiuchi N, Yoshizato T, Nakagawa MM, Nanya Y, Yoshida K, Makishima H, Sanada M, Sakata-Yanagimoto M, Chiba S, Matsuoka R, Noguchi M, Hiramoto N, Ishikawa T, Kitagawa J, Nakamura N, Tsurumi H, Miyazaki T, Kito Y, Miyano S, Shimoda K, Takeuchi K, Ohshima K, Yoshino T, Ogawa S, Kataoka K. Molecular heterogeneity in peripheral T-cell lymphoma, not otherwise specified revealed by comprehensive genetic profiling. Leukemia 33(12):2867-2883, Dec, 2019 (doi: 10.1038/s41375-019-0473-1.) Epub May 15, 2019
・Sakamoto T, Obara N, Nishikii H, Kato T, Luan CS, Fujimura R, Yagita H, Sakata-Yanagimoto M, Takahashi S, Chiba S. Notch signaling in Nestin-expressing cells in the bone marrow maintains erythropoiesis via macrophage integrity. Stem Cells 37(7):924-936, Jul, 2019 (doi: 10.1002/stem.3011. ) Epub Apr 15, 2019
・Nishikii H, Kurita N, Shinagawa A, Sakamoto T, Kusakabe M, Yokoyama Y, Kato T, Sakata-Yanagimoto M, Obara N, Hasegawa Y, Nakamura N, Chiba S. Durable Leukemic Remission and Autologous Marrow Recovery with Random Chromosomal Abnormalities after Allogeneic Hematopoietic Stem Cell Transplantation for Chronic Lymphocytic Leukemia. Case Rep Hematol 2019:9710790, Jan 3, 2019 (doi: 10.1155/2019/9710790.) eCollection 2019.
・Cao-Sy L, Obara N, Sakamoto T, Kato T, Hattori K, Sakashita S, Nannya Y, Ogawa S, Harada H, Sakata-Yanagimoto M, Nishikii H, Chiba S. Prominence of nestin-expressing Schwann cells in bone marrow of patients with myelodysplastic syndromes with severe fibrosis. Int J Hematol 109(3):309-318, Mar, 2019 (doi: 10.1007/s12185-018-02576-9.) Epub Jan 10, 2019
・Tomiyama S, Sakata‐Yanagimoto M, Chiba S, Aikawa N. Development of automatic classification system for leukocyte images using Random Forest. Electronics and Communications in Japan 138(4):347–351, Aug 28, 2018 (doi: doi.org/10.1002/ecj.12113)
・Itonaga H, Ota S, Ikeda T, Taji H, Amano I, Hasegawa Y, Ichinohe T, Fukuda T, Atsuta Y, Tanizawa A, Kondo T, Miyazaki Y. Allogeneic hematopoietic stem cell transplantation for the treatment of BCR-ABL1-negative atypical chronic myeloid leukemia and chronic neutrophil leukemia: A retrospective nationwide study in Japan. Leuk Res 75:50-57, Dec, 2018 (doi: 10.1016/j.leukres.2018.11.003.) Epub Nov 13, 2018
・Kurita N, Sakamoto T, Kato T, Kusakabe M, Yokoyama Y, Nishikii H, Sakata-Yanagimoto M, Obara N, Hasegawa Y, Chiba S. The prognosis of disseminated intravascular coagulation associated with hematologic malignancy and its response to recombinant human thrombomodulin. Thromb Res 173:57-64, Jan, 2019 (doi: 10.1016/j.thromres.2018.11.014.) Epub Nov 16, 2018
・Miki K, Obara N, Makishima K, Sakamoto T, Kusakabe M, Kato T, Kurita N, Nishikii H, Yokoyama Y, Sakata-Yanagimoto M, Hasegawa Y, Chiba S. An Unprecedented Case of p190 BCR-ABL Chronic Myeloid Leukemia Diagnosed during Treatment for Multiple Myeloma: A Case Report and Review of the Literature. Case Rep Hematol 2018:7863943, Oct 10, 2018 (doi: 10.1155/2018/7863943.) eCollection 2018.
・Hattori K, Sakata-Yanagimoto M, Kusakabe M, Nanmoku T, Suehara Y, Matsuoka R, Noguchi M, Yokoyama Y, Kato T, Kurita N, Nishikii H, Obara N, Takano S, Ishikawa E, Matsumura A, Muratani M, Hasegawa Y, Chiba S. Genetic evidence implies that the primary and relapsed tumors arise from common precursor cells in primary CNS lymphoma. Cancer Sci 110(1):401-407, Jan, 2019 (doi: 10.1111/cas.13848.) Epub Oct 24, 2018
・Makishima K, Obara N, Ishitsuka K, Sukegawa S, Suma S, Kiyoki Y, Baba N, Sakamoto T, Kato T, Kusakabe M, Nishikii H, Kurita N, Yokoyama Y, Sakata-Yanagimoto M, Hasegawa Y, Chiba S. High efficacy of eculizumab treatment for fulminant hemolytic anemia in primary cold agglutinin disease. Ann Hematol 98(4):1031-1032, Apr, 2019 (doi: 10.1007/s00277-018-3521-4.) Epub Oct 15, 2018
・Fujiwara SI, Fujishima N, Kanamori H, Ito M, Sugimoto T, Saito S, Sakaguchi T, Nagai K, Masuoka H, Nagai K, Morita A, Kino S, Tanaka A, Hasegawa Y, Yokohama A, Fujino K, Makino S, Matsumoto M, Takeshita A, Muroi K. Released washed platelet concentrates are effective and safe in patients with a history of transfusion reactions. Transfus Apher Sci 57(6):746-751, Dec, 2018 (doi: 10.1016/j.transci.2018.09.001.) Epub Sep 7, 2018
・Yamada E, Ishikawa E, Watanabe R, Matsumura H, Sakamoto N, Ishii A, Tamaoka A, Hattori K, Obara N, Chiba S, Nakamagoe K, Matsuda M, Tsurubuchi T, Tomidokoro Y, Akutsu H, Zaboronok A, Shibuya M, Takano S, Matsumura A. Random skin biopsies prior to brain biopsy for intravascular large B-cell lymphoma. World Neurosurg 121:e364-e369, Jan, 2019 (doi: 10.1016/j.wneu.2018.09.110.) Epub Sep 24, 2018
・Hara T, Akutsu H, Takano S, Kino H, Ishikawa E, Tanaka S, Miyamoto H, Sakamoto N, Hattori K, Sakata-Yanagimoto M, Chiba S, Hiyama T, Masumoto T, Matsumura A. Clinical and biological significance of adamantinomatous craniopharyngioma with CTNNB1 mutation. J Neurosurg 131(1):217–226, Jul, 2019 (doi: 10.3171/2018.3.JNS172528.) Epub 2018, Aug 3, 2018
・Hosokawa K, Sugimori C, Ishiyama K, Takamatsu H, Noji H, Shichishima T, Obara N, Chiba S, Ninomiya H, Shirasugi Y, Nakamura Y, Ando K, Ueda Y, Yonemura Y, Kawaguchi T, Nishimura JI, Kanakura Y, Nakao S. Establishment of a flow cytometry assay for detecting paroxysmal nocturnal hemoglobinuria-type cells specific to patients with bone marrow failure. Ann Hematol 97(12):2289-2297, Dec, 2018 (doi: 10.1007/s00277-018-3443-1.) Epub Jul 24, 2018
・Ueda Y, Obara N, Yonemura Y, Noji H, Masuko M, Seki Y, Wada K, Matsuda T, Akiyama H, Ikezoe T, Chiba S, Kanda Y, Kawaguchi T, Shichishima T, Nakakuma H, Okamoto S, Nishimura JI, Kanakura Y, Ninomiya H. Correction to: Effects of eculizumab treatment on quality of life in patients with paroxysmal nocturnal hemoglobinuria in Japan. Int J Hematol 108(2):233-235, Aug, 2018 (doi: 10.1007/s12185-018-2486-3.) Epub Jul 6, 2018
・Matsuda A, Kawabata H, Tohyama K, Maeda T, Araseki K, Hata T, Suzuki T, Kayano H, Shimbo K, Usuki K, Chiba S, Ishikawa T, Arima N, Nohgawa M, Ohta A, Miyazaki Y, Nakao S, Ozawa K, Arai S, Kurokawa M, Mitani K, Takaori-Kondo A; Japanese National Research Group on Idiopathic Bone Marrow Failure Syndromes. Interobserver concordance of assessments of dysplasia and blast counts for the diagnosis of patients with cytopenia: From the Japanese central review study. Leuk Res 74(2018):137-143, Nov, 2018 (doi: 10.1016/j.leukres.2018.06.003.) Epub Jun 7, 2018
・Suma S, Sakata-Yanagimoto M, Nguyen TB, Hattori K, Sato T, Noguchi M, Nannya Y, Ogawa S, Watanabe R, Fujimoto M, Nakamura N, Kusakabe M, Nishikii H, Kato T, Chiba S. Blastic plasmacytoid dendritic cell neoplasm arising from clonal hematopoiesis. Int J Hematol. Apr 28, 2018 (doi: 10.1007/s12185-018-2461-z.)
・Oya K, Watanabe R, Inoue S, Obara N, Kiyoki Y, Sakata-Yanagimoto M, Chiba S, Saito C, Matsumura Y, Nakamura Y, Ishitsuka Y, Maruyama H, Okiyama N, Fujisawa Y, Fujimoto M. Bullous pemphigoid accompanied by IgA nephropathy and atypical haemolytic uraemic syndrome. Eur J Dermatol Apr 5, 2018 (doi: 10.1684/ejd.2018.3285.)
・Kawajiri-Manako C, Sakaida E, Ohwada C, Miyamoto T, Azuma T, Taguchi J, Mori T, Hasegawa Y, Kondo T, Yujiri T, Yoshimitsu M, Imada K, Kurahashi S, Kahata K, Ichinohe T, Hirokawa M, Atsuta Y, Nakaseko C. Efficacy and Long-Term Outcomes of Autologous Stem Cell Transplantation in POEMS Syndrome: A Nationwide Survey in Japan. Biol Blood Marrow Transplant 24(6):1180-1186, Jun, 2018 (doi: 10.1016/j.bbmt.2018.01.026.) Epub Feb 1, 2018
・Abdelmoez MN, Iida K, Oguchi Y, Nishikii H, Yokokawa R, Kotera H, Uemura S, Santiago JG, Shintaku H. SINC-seq: correlation of transient gene expressions between nucleus and cytoplasm reflects single-cell physiology. Genome Biol 19(1):66, Jun 6, 2018 (doi: 10.1186/s13059-018-1446-9.)
・Tanzima Nuhat S, Sakata-Yanagimoto M, Komori D, Hattori K, Suehara Y, Fukumoto K, Fujisawa M, Kusakabe M, Matsue K, Wakamatsu H, Shimadzu M, Chiba S. Droplet digital PCR assay and PNA-LNA clamp method for RHOA mutation detection in angioimmunoblastic T-cell lymphoma. Cancer Sci Mar 1, 2018 (doi: 10.1111/cas.13557.)
・Suehara Y, Sakata-Yanagimoto M, Hattori K, Nanmoku T, Itoh T, Kaji D,
Yamamoto G, Abe Y, Narita K, Takeuchi M, Matsue K, Sato T, Noguchi M, Baba
N, Sakamoto T, Kusakabe M, Kurita N, Kato T, Yokoyama Y, Nishikii H, Obara N,
Hasegawa Y, Chiba S. Liquid biopsy for the identification of intravascular large
B-cell lymphoma. Haematologica. (doi: 10.3324/haematol.2017.178830.)
[Epub ahead of print]
・Najima Y, Yoshida C, Iriyama N, Fujisawa S, Wakita H, Chiba S, Okamoto S, Kawakami K, Takezako N, Kumagai T, Ohyashiki K, Taguchi J, Yano S, Igarashi T, Kouzai Y, Morita S, Sakamoto J, Sakamaki H, Inokuchi K. Regulatory T cell inhibition by dasatinib is associated with natural killer cell differentiation and a favorable molecular response-The final results of the D-first study. Leuk Res 66(2018):66-72, Mar, 2018 (doi: 10.1016/j.leukres.2018.01.010.) Epub Feb 2, 2018
・Ueda Y, Obara N, Yonemura Y, Noji H, Masuko M, Seki Y, Wada K, Matsuda T, Akiyama H, Ikezoe T, Chiba S, Kanda Y, Kawaguchi T, Shichishima T, Nakakuma H, Okamoto S, Nishimura JI, Kanakura Y, Ninomiya H. Effects of eculizumab treatment on quality of life in patients with paroxysmal nocturnal hemoglobinuria in Japan. Int J Hematol Jan 30, 2018 (doi: 10.1007/s12185-018-2409-3.) [Epub ahead of print]
・Maie K, Yokoyama Y, Yano Y, Kato T, Nannya Y, Ogawa S, Noguchi M, Sakata-
Yanagimoto M, Chiba S. Progression to polythythemia vera from familial
thrombocytosis with germline JAK2 R867Q mutation. Ann Hematol 97(4):737-
739, Apr, 2018 (doi: 10.1007/s00277-017-3209-1.) Epub, Jan 24, 2018
・Fujisawa M, Sakata-Yanagimoto M, Nishizawa S, Komori D, Gershon P, Kiryu M, Tanzima S, Fukumoto K, Enami T, Muratani M, Yoshida K, Ogawa S, Matsue K, Nakamura N, Takeuchi K, Izutsu K, Fujimoto K, Teshima T, Miyoshi H, Gaulard P, Ohshima K, Chiba S. Activation of RHOA-VAV1 signaling in angioimmunoblastic T-cell lymphoma. Leukemia. 2017 (doi: 10.1038/leu.2017.273.) [Epub ahead of print]
・Pierini A, Nishikii H, Baker J, Kimura T, Kwon HS, Pan Y, Chen Y, Alvarez M, Strober W, Velardi A, Shizuru JA, Wu JY, Chiba S, Negrin RS. Foxp3+ regulatory T cells maintain the bone marrow microenvironment for B cell lymphopoiesis. Nat Commun. 8:15068, 2017
・Nguyen TB, Sakata-Yanagimoto M, Asabe Y, Matsubara D, Kano J, Yoshida K, Shiraishi Y, Chiba K, Tanaka H, Miyano S, Izutsu K, Nakamura N, Takeuchi K, Miyano H, Ohshima K, Minowa T, Ogawa S, Noguchi M, Chiba S. Identification of cell-type-specific mutations in nodal T-cell lymphomas. Blood Cancer J. 7:e516, 2017
・Makishima H, Yoshizato T, Yoshida K, Sekeres MA, Radivoyevitch T, Suzuki H, Przychodzen B, Nagata Y, Meggendorfer M, Sanada M, Okuno Y, Hirsch C, Kuzmanovic T, Sato Y, Sato-Otsubo A, LaFramboise T, Hosono N, Shiraishi Y, Chiba K, Haferlach C, Kern W, Tanaka H, Shiozawa Y, Gómez-Seguí I, Husseinzadeh HD, Thota S, Guinta KM, Dienes B, Nakamaki T, Miyawaki S, Saunthararajah Y, Chiba S, Miyano S, Shih LY, Haferlach T, Ogawa S, Maciejewski JP. Dynamics of clonal evolution in myelodysplastic syndromes. Nat Genet. 49(2):204-12, 2017
・Nishikii H, Kim BS, Yokoyama Y, Chen Y, Baker J, Pierini A, Alvarez M, Mavers M, Maas-Bauer K, Pan Y, Chiba S, Negrin RS. DR3 signaling modulates the function of Foxp3+ regulatory T cells and the severity of acute graft versus host disease. Blood. 128(24):2846-58, 2016
・Nagata Y, Kontani K, Enami T, Kataoka K, Ishii R, Totoki Y, Kataoka TR, Hirata M, Aoki K, Nakano K, Kitanaka A, Sakata-Yanagimoto M, Egami S, Shiraishi Y, Chiba K, Tanaka H, Shiozawa Y, Yoshizato T, Suzuki H, Kon A, Yoshida K, Sato Y, Sato-Otsubo A, Sanada M, Munakata W, Nakamura H, Hama N, Miyano S, Nureki O, Shibata T, Haga H, Shimoda K, Katada T, Chiba S, Watanabe T, Ogawa S. Variegated RHOA mutations in adult T-cell leukemia/lymphoma. Blood. 127(5):596-604, 2016
・Nishikii H, Kanazawa Y, Umemoto T, Goltsev Y, Matsuzaki Y, Matsushita K, Yamato M, Nolan GP, Negrin R, Chiba S. Unipotent megakaryopoietic pathway bridging hematopoietic stem cells and mature megakaryocytes. Stem Cells. 33(7):2196-207, 2015
・Kasenda B, Ferreri AJ, Marturano E, Forst D, Bromberg J, Ghesquieres H, Ferlay C, Blay JY, Hoang-Xuan K, Pulczynski EJ, Fosså A, Okoshi Y, Chiba S, Fritsch K, Omuro A, O'Neill BP, Bairey O, Schandelmaier S, Gloy V, Bhatnagar N, Haug S, Rahner S, Batchelor TT, Illerhaus G, Briel M. First-Line Treatment and Outcome of Elderly Patients with Primary Central Nervous System Lymphoma (PCNSL) - A Systematic Review and Individual Patient Data Meta-Analysis. Ann Oncol. 26(7):1305-13, 2015
・Kato T, Sakata-Yanagimoto M, Nishikii H, Miyake Y, Yokayama Y, Asabe Y, Kamada Y, Ueno M, Obara N, Suzukawa K, Hasegawa Y, Kitabayashi I, Uchida K, Hirao A, Yagita H, Kageyama R, Chiba S. Hes1 suppresses acute myeloid leukemia development through FLT3 repression. Leukemia. 29(3):576-85, 2015
・Muto H, Sakata-Yanagimoto M, Nagae G, Shiozawa Y, Miyake Y, Yoshida K, Enami T, Kamada Y, Kato T, Uchiba K, Nanmoku T, Obara N, Suzukawa K, Sanada M, Nakamura N, Aburatani H, Ogawa S, Chiba S. Reduced TET2 Function Leads to T-cell Lymphoma with Follicular Helper T cell-like Features in mice. Blood Cancer J. 4:e264, 2014
・Sakata-Yanagimoto M, Enami T, Yoshida K, Shiraishi Y, Ishii R, Miyake Y, Muto H, Tsuyama N, Sato-Otsubo A, Okuno Y, Sakata S, Kamada Y, Nakamoto-Matsubara R, Tran NB, Izutsu K, Sato Y, Ohta Y, Furuta J, Shimizu S, Komeno T, Sato Y, Ito T, Noguchi M, Noguchi E, Sanada M, Chiba K, Tanaka H, Suzukawa K, Nanmoku T, Hasegawa Y, Nureki O, Miyano S, Nakamura N, Takeuchi K, Ogawa S, Chiba S. Somatic RHOA mutation in angioimmunoblastic T cell lymphoma. Nat Genet. 46(2):171-5, 2014
・Yoshida K, Sanada M, Shiraishi Y, Nowak D, Nagata Y, Yamamoto R, Sato Y, Sato-Otsubo A, Kon A, Nagasaki M, Chalkidis G, Suzuki Y, Shiosaka M, Kawahata R, Yamaguchi T, Otsu M, Obara N, Sakata-Yanagimoto M, Ishiyama K, Mori H, Nolte F, Hofmann WK, Miyawaki S, Sugano S, Haferlach C, Koeffler HP, Shih LY, Haferlach T, Chiba S, Nakauchi H, Miyano S, Ogawa S. Frequent pathway mutations of splicing machinery in myelodysplasia. Nature. 478(7367):64-9, 2011
・Sakata-Yanagimoto M, Sakai T, Miyake Y, Saito TI, Maruyama H, Morishita Y, Nakagami-Yamaguchi E, Kumano K, Yagita H, Fukayama M, Ogawa S, Kurokawa M, Yasutomo K, Chiba S. Notch2 signaling is required for proper mast cell distribution and mucosal immunity in the intestine. Blood. 117(1):128-34, 2011